Southend Adult Community College has three sites, the Westcliff Centre for people with learning disabilities and difficulties, Belfairs Centre in Leigh on Sea and our main Southchurch Centre, which is only 100 yards away from Southend East station. Every effort has been made to make all facilities as accessible as possible to all members of our community with step free access and lifts in all our centres.
Travel
Our sites are all served by nearby bus services, our main centre in Southchurch is 100 yards from Southend East C2C station. You can also save money on your journey with C2C. They offer 1/3 off a weekly, monthly or annual season ticket to get you to and from college. Many transport providers in the local area offer discounts, contact your local transport provider directly to find out what is available to you. We have a free bike and car park at Southchurch and Belfairs centres.
The Main Course Café
Based at our Southchurch Centre the Main Course Café is a relaxed café open to the public at SACC. Pop in for a drink or indulge yourself and friends with freshly prepared sandwiches, soups, salads and main meals for a fraction of high street prices.
Art and Design Studios
Southend Adult Community College has several specialist Art and Design Studios with materials and tools available to students, including a traditional Print Press, a well-equipped Ceramics Studio and exhibition space showcasing student work on display.
Hire Spaces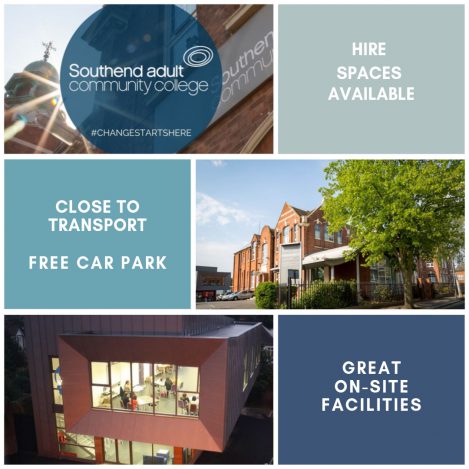 Southend Adult Community College has several specialist spaces available to hire designed to provide the best environment to meet the needs of their students and the local community.
We can cater for small and large groups and have 3 main spaces, including our Main Hall, various Classroom Spaces and The BEST Centre. To find out more email sacc@southend-adult.ac.uk or call 01702 445 700