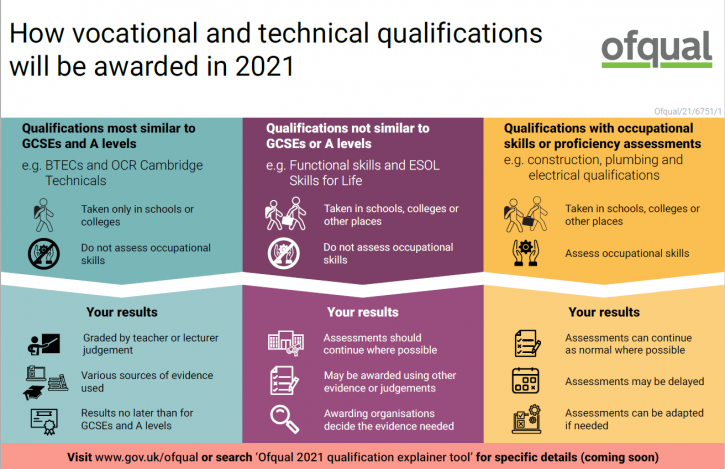 Examinations
GCSE Exams have been cancelled for the Academic year 2020 -2021.
Candidates should continue attending lessons, whether they are face to face or remote, and complete any work or assessments set by Tutors, as it may be used to provide evidence towards the Tutor Assessed Grade (TAG).
More information can be found here: https://www.jcq.org.uk/wp-content/uploads/2021/03/JCQ-Guidance-for-Students-and-Parents-on-Summer-2021.pdf
All other exams will continue to take place, in line with COVID-19 safety measures.
Results
GCSE Results day is 12th August 2021.
More detail about results day and how you will receive your result, will be published soon.
Certificates
Some Awarding Organisations may not be issuing hard copies of certificates this year, due to the unusual circumstances, presented by Covid-19.
If you have achieved a qualification in the 2020-2021 academic year, you may receive a digital certificate by email.
Digital Certificates can be printed at home, they look exactly the same as hard copies, and carry the same value.
Education providers and employers are able to check and validate digital certificates with Awarding Organisations, with your permission.
If you are issued a hard copy of your certificate, we will advise you when it is safe to collect it.
Please ensure we have an up to date email address for you, on your learner file.
If your contact details have changed you can update us by emailing sacc@southend-adult.ac.uk , calling 01702 445700 (option 1) or contact us through the Live chat on our website.
You can contact the Exams Department, by calling 01702 445726 or email exams@southend-adult.ac.uk. The Exams Department is available during Term Time, between 8.15am and 2:45pm. For additional support with your learning and studies, view our Additional Learning Support service.
Southend Adult Community College are proud to be approved by the following Awarding Organisations: